The agenda for the meeting will be posted on the Board's website at least 72 hours prior to the meeting. Location, "join" information and all other information pertaining to the meeting can also be found on the Board's website: https://www.rld.nm.gov/.../dhc-board.../dhc-board-meetings/
ADHA Statement 9.2.21:
ADHA is pleased to be included as a signer on the American Public Health Association Oral Health Section's Joint Statement Supporting COVID-19 Vaccine Mandates for All Oral Health Care Workers. As of late July, 72.7% of surveyed dental hygienists were fully vaccinated, and 78.2% had received at least one dose. As the country is facing another rise in COVID-19 cases, hospitalizations, and deaths, this is the time for the oral health communityy to step up and join our collegues in medicine, nursing pharmacy, public health, and hospitals and call for mandatory vaccination of oral health care professionals. Read the full statement: adha.org/covid19
Paid ad:
Dental Hygienist Opportunity in Carlsbad, New Mexico
Up to $10,000 in Sign on Bonus
Familia Dental was established in 2008 and has grown rapidly because of our quality dentistry and our caring, compassionate approach to all people. Our practice exemplifies the core values of quality, honesty, and care in everything that we do.
When you join Familia Dental as a Dental Hygienist, you will have the opportunity to make a real difference in your community while earning a competitive salary, wage increases, and more benefits than ever before such as our newly added 401K plan.
Whether Kick-Starting a New Career or Having Experience, working as a Dental Hygienist at Familia Dental Has Amazing Benefits!
Endless Career Growth Opportunities

Hands-On In-Clinic Training

Latest Technology and Safety Protocols

Making a Difference Every Day

Giving Back to Our Community

Compassionate & Collaborative Team Environment

Health, Dental and Vision Insurance

401(k) Retirement Plan

Access to Financial Advisors

Basic Life & AD&D Insurance

Voluntary Life Insurance

Voluntary Short-Term Disability

Paid Holidays & Time Off

AD&D Coverage
Job Purpose - Dental Hygienist
To effectively and efficiently assist the dentist in providing dental care to patients and to promote Familia Dental's culture, mission and values.
Essential Duties and Responsibilities - Dental Hygienist
The Dental Hygienist performs many tasks requiring both interpersonal and technical skills. Although state regulations vary, responsibilities may include:
Duties and Responsibilities:
Welcome and escort patient in a professional and friendly manner from reception area to and from the treatment areas.

Take and record patient's medical and dental histories and vital signs, blood pressure & pulse.

Insure review and completion of documentation, accurate and current medical history, medical alerts, and signed consent forms.

Document/chart all dental procedures performed during each patient visit per Dentist's instructions and legal requirements.

Clean calcareous deposits, accretions, and stains from teeth and beneath margins of gums, using dental instruments.

Examine gums, using probes, to locate periodontal recessed gums and signs of gum disease.

Take and develop dental diagnostic x-rays.

Chart conditions of decay and disease for diagnosis and treatment by dentist.

Maintain dental equipment and sharpen and sterilize dental instruments.

Apply fluorides or other cavity preventing agents to arrest dental decay.

Provide patients with instructions for oral care following surgery or other dental treatment procedures postoperative instructions as prescribed by Dentist.

Effectively provide dental education and information to patients to insure patient awareness of dental health, and oral hygiene strategies to maintain oral health (e.g., tooth brushing, flossing and nutritional counseling).

Effectively present to patient the dental treatment plan and proposed plan for continuing treatments in professional and confidential manner.

Communicate with the patient treatment that will be performed and financial obligation before starting procedure.

Understand and explain insurance benefits and financial options in non-clinical terms.

Notify Office Manager of equipment trouble or general safety concerns.

Attend and participate in morning huddles, chart reviews and regular office meetings.

Attend continuing education and training seminars as scheduled.

Understand and follow HIPAA regulations and maintain confidentiality.

Understand and follow state and Federal OSHA laws, infection control, safety standards in the dental office and operatory, including wearing personal protective (PPE) barriers such as gloves, disposable gowns, and eye wear; disinfecting and sterilizing instruments and treatment areas; and disposing properly of contaminated or bio-hazardous waste/materials.

Learn and follow Familia Dental's administrative and operational procedures.

Review and follow Employee Handbook to ensure consistent standards.

Communicate with the Office Manager to establish office goals and insurance concerns.
Qualifications (Experience, Education, License, Certification)
Previous dental hygienist experience preferred but not required.

Meet state requirements for Dental Hygienist duties, continuing education requirements and license. Must also have and maintain Basic Life Support (BLS) and cardiopulmonary resuscitation (CPR) certificate and radiography certificate (if State required).
https://familiadental.clearcompany.com/careers/jobs/59259ac1-9683-851e-3d49-6678b2d9485a/apply?source=1662678-CS-38847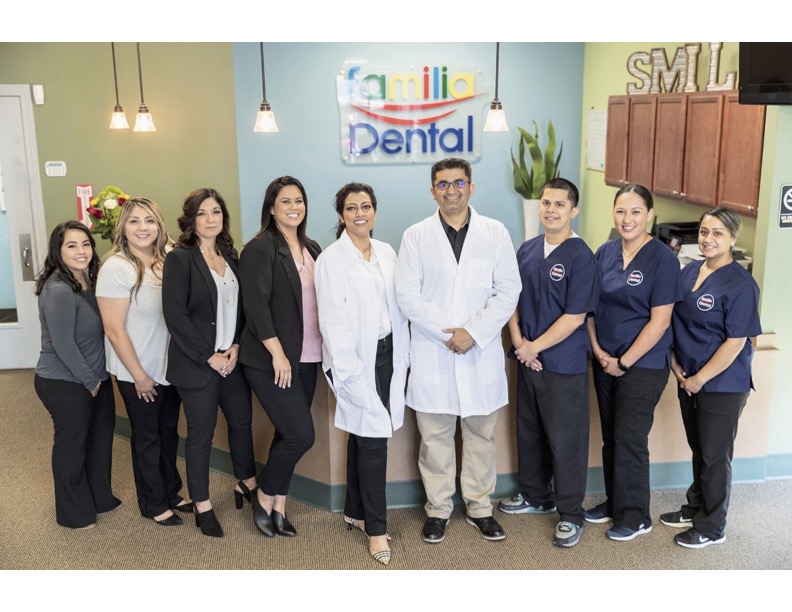 To report non-compliance to public health emergency order call:
1-833-551-0518
Click
here
to view COVID-19 for Dental Hygienists
Click
here
to view the current order from Governor Michelle Lujan Grisham!
Click here to view updates for licensure renewal!
Please be sure to wear a mask, wash your hands, stay at home as much as possible, and keep your distance from others!
Click below to donate to NMDHA!